#5601


screen wiper


Having a hard time reading your computer screen through all the dust? These handy screen wipers make short work of this nuisance safely and effectively.

Custom shapes available- call for pricing.

Colors: red, blue, dark blue, teal blue, purple, yellow, green, dark green, black, white, orange, pink, sage, salsa, light grey, coffee

Transluscent Colors: red, blue, green, purple, frost, orange, smoke, kiwi green, pink, yellow, aqua, sky blue, bright coral

Set up charges: $50.00 per color per location

Specify shape when ordering.
250
500

1000

25

00
#5601
$1.

22

$

1.14

$.

99

$.

95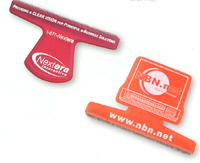 Leave your message on this wiper..... not in the dust on the monitor!
Other handle shapes available:
*house *pc
*world *phone
*light bulb *heart